Britain's goods exports have "collapsed" to levels not seen for three years in response to growing Brexit uncertainty and slowdowns in the Chinese and the US economies, according to a quarterly trade monitor.
Business consultants BDO found that the UK's goods exports, which have suffered a slowdown in growth since the beginning of 2017, contracted in the last three months of the year to leave them at a level not seen since 2015.
The pan-European report echoes the complaints of UK business leaders who have stressed that delays to a Brexit deal come at a time of increasing worries about the outlook for global trade.
Investment by UK businesses has all but dried up in the last year according to official figures and manufacturing is heading into a recession driven by a sharp fall in car production and sales.
BDO said its findings showed that exporters were being hit by Brexit, "significant" economic turmoil across Europe and the threat of protectionist tariffs that also affected firms on the continent.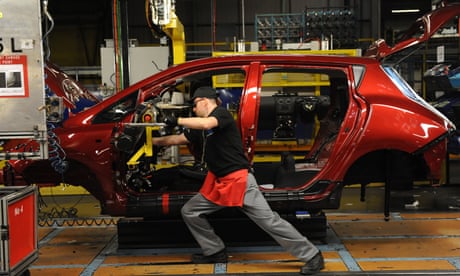 Businesses in France, Germany and Italy were hit by falling business confidence and slowing trade, although only France's export sector has declined at a faster pace than the UK's over the last three years.
On Friday stock markets tumbled following a slew of negative economic data showing the US and China – the world's number one and number two economies – were slowing while a report by the European Central Bank forecast lower growth across the eurozone next year and in 2020.
Spokesman Peter Hemington said: "Across Europe, economic disorder has led to EU export growth stagnating. Three of the five largest EU economies are battling against political and economic chaos.
"The French economy is set to suffer further from the gilets jaunes (yellow vest) protests, Germany's car manufacturers are struggling with new regulation and, in the UK, government infighting is taking its toll as we edge closer to a disorderly Brexit.
"Overseas demand has helped sustain the UK economy over the last few years and British businesses are doing all they can to remain resilient despite these challenges. The EU remains our most important trading bloc but Brexit uncertainty is proving damaging.
"It's crucial that Britain is seen to be open for business with the EU and other key markets as we enter what is going to be a critical year for the UK."
The BDO quarterly index for the UK fell 0.7 points to 94.9, below the point of contraction of 95.0.
German export growth fell 2.6 points to stand at 96.8 in the fourth quarter, while France – the worst performing major EU economy this quarter – saw its export growth collapse by 4.8 points to 92.8.
As 2018 draws to a close….
… we're asking readers to make an end of year or ongoing contribution in support of The Guardian's independent journalism.
Three years ago we set out to make The Guardian sustainable by deepening our relationship with our readers. The same technologies that connected us with a global audience had also shifted advertising revenues away from news publishers. We decided to seek an approach that would allow us to keep our journalism open and accessible to everyone, regardless of where they live or what they can afford.
More than one million readers have now supported our independent, investigative journalism through contributions, membership or subscriptions, which has played such an important part in helping The Guardian overcome a perilous financial situation globally. We want to thank you for all of your support. But we have to maintain and build on that support for every year to come.
Sustained support from our readers enables us to continue pursuing difficult stories in challenging times of political upheaval, when factual reporting has never been more critical. The Guardian is editorially independent – our journalism is free from commercial bias and not influenced by billionaire owners, politicians or shareholders. No one edits our editor. No one steers our opinion. This is important because it enables us to give a voice to those less heard, challenge the powerful and hold them to account. Readers' support means we can continue bringing The Guardian's independent journalism to the world.
Please make an end of year contribution today to help us deliver the independent journalism the world needs for 2019 and beyond.
source, the gaurdian